Together We Create a Special World!
Our Mission is to Help Those Who Need It
Click here for Amazon Smile.  Purchasing through this link will enable Muza Kids to receive .5% of your purchase.  Simply click this link and then choose Muza Kids as your preferred charity.  Thank You!
Amazon Smile
Muza Kids Board of Directors: President: Donna Bee-Gates, Ph.D. (Author; San Jose State University) Vice-President: David S. Gates, Jr., M.S. (Ridge Vineyards) Secretary: Robin Love, Ph.D. (San Jose State University) Treasurer: Lucy Larson, M.A. (Palo Alto Art Center) Member: Jeff Bordona (San Jose Museum of Art)
Our Mission
Muza Kids is a non-profit organization dedicated to promoting the arts. Many of us have childhood memories of a dance performance or trip to a museum that helped encourage our love of the arts. However, some children, because of their economic circumstances, will reach adulthood, never having stepped foot in a museum, a theater or a music hall. Read More
Announcing the first recipient of the Margarete Bagshaw Arts Scholarship!
Kindi is a fourth grader at Washington Elementary in San Jose.  She loves art, especially drawing and painting.  The Bagshaw scholarship will allow her to attend a summer art camp at the San Jose Museum of Art.  Below is a photo of Kindi with her winning art submission and her super-teacher Siliva Rendon.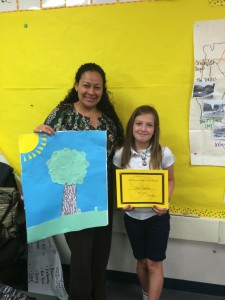 "Thank you for taking us to the San Jose Museum of Art, the DeYoung Museum, & Stanford.  Thank you for the lunch.  I can't wait for the camp.  I loved when we went to paint a drawing.  Thank you for everything."  (Muza Kids participant)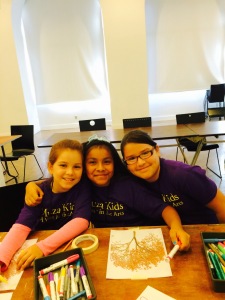 Click Here to Watch Our First Field Trip to the